COMPLETE SYSTEMS ARE OUR SUCCESS
AND YOUR ADVANTAGE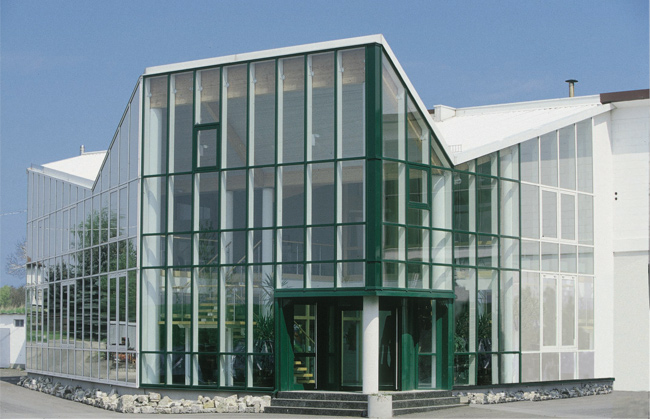 High-quality wood products need an individual production process.
According to your needs we develop the ideal solution for you. Starting at log processing all the way to finished and semi-finished sawn products – we carry out the entire chain of process: counselling and planning, all sawing technologies, start-up and service from only one source!
Find out more on the following pages or contact us.
SUSTAINABLE MANAGEMENT
YOUR TRUSTED PARTNER
Competence and know-how are the main pillars of our company's philosophy – a concept that has been convincing since 1885. With 130 employees we develop, design and produce complete machines for the wood processing industry worldwide. The results of our wealth of experience are sophisticated saw mill technologies.
The high expectations of our clients are a challenge that we have been answering to for the past 125 years and we will continue to do so in the future with highest quality, technical innovations and precise production.
SUSTAINABILITY
Owner-managed and 100% family-owned, we do not think in quater figures but long-term. Customer satisfaction, company success and the well-being of our employees are inseparable values that belong together.
PRESENT WORLDWIDE
Our experienced employees in sales and service are ready to help you from our factory as well as together with our sales partners in all major markets of the world.
INNOVATIVE SOLUTIONS
We are known for our innovative skills and our outstanding product solutions. Even well-established technologies such as the frame saw technology we keep on developing. The success as a technology leader justifies this.
COMPLETE PROVIDER FOR ALL SAWING TECHNOLOGIES
Frame saw, band saw, profiling chipper canter or circular saw technology – we provide you with sawing technologies from only one source, individually designed in compliance with your wishes as a complete turn-key unit.
4 GENERATIONS WITH CORPORATE RESPONSIBILITY
In 1885, more than a century ago, Peter Möhringer laid the foundation stone of the company in the form of his small blacksmith's shop in Feuerbach. He started by repairing agricultural machinery, and his business rapidly developed into a production facility for high-quality steel frame saws for mills at the nearby Steigerwald forests. In the 1920s, Peter's son Simon Möhringer introduced the mass production of frame saws.
Healthy Growth
Professional, reliable, innovative: every generation of the Möhringer family brought the company success. Friedrich Möhringer, the third generation to run the company, pushed the mechanisation of sawmills in the 1960s and extended the manufacturing range by introducing log yard equipment.
A milestone in the company's development was the foundation of a second production facility at Wiesentheid in 1972. This is now the company's headquaters. During the subsequent period, the traditional company Möhringer has developed partnership-based relationships with sawmillers both at home and abroad.
Exclusive products all over the world
Meanwhile, Dr. Stefan Möhringer, the fourth generation, has taken over the management of the business. Our product range has been continously expanded. We are especially proud of a large number of innovations and patent applications in frame saw, circular saw and chipping machine technology. In 1999 our range has been completed by the introduction of our new product line "Braun-Canali band saw technology". Today, we are present all over the world as a turn-key supplier of woodworking technologies.