Products –
 Frame saw-Technology
Möhringer – Technology leader in frame saw technology
The frame saw proved itself as a precise-working, highly productive and universal unit for cutting logs. This is especially true for small and medium-sized saw mills. Due to the automatic feeding, the frame saw is also interesting for large saw mills e.g. in the furniture and parquet flooring industry. Möhringer units are composed of a cost-efficient, modular building block system.
You can upgrade your unit with additional components at any time and without any effort. We are doing the exchange or assembly on site – fast and simple. Möhringer frame saws are very reliable in their functioning and are also very easy to maintain.
With a Möhringer Framesaw you benefit from more than 125 years of technological experience in Framesaw design, production, and operation.
We are market leader in the field of Framesaw technology because we up-date the design of our Framesaws by teaming up with our customers and the concept matches the various applications in Germany and abroad.
Modular system
In order to offer you a reliable and cost effective modular system Möhringer Framesaws are designed to use those components:
Easy extending with optional equipment at any time
Fast and economical exchange of all parts on site
Fast assembly and use of standardized parts creating short delivery lead time
Extensive series equipment
All Framesaw types have the following standard equipment:
Electric frequency-controlled feed speed
Independent electronic control for feed and overhang with numerous adjustment possibilities for an optimal rate between speed and overhang
PLC control with touch screen display for individual adjustment by client i.e. lubrication times
User-friendly menu navigation, does not require any PLC knowledge
Integrated counter for operation and service hour
Large CPU hardware: all software options can be upgraded
Hydraulic engaging and disengaging
Automatic overhang adjustment
Central lubrication system
Framesaw hydraulic
Complete set of foundation screws and special tools
Steel shaker chute
Single pulley drive
Easy & flexible expandable
Optionally available:
Logging: automatic logging of output per day, shift or customer demand, output of loggings on a memory stick
Automatic feed: optimized feed depending on diameter, number of saws and type of timber
Automatic rollers: automatic control of upper rollers
Fully-automatic system: in connection with Möhringer fast infeed as an automatic Framesaw operation
Steel roller inserts
Electrical width adjustment with 2-way or 4-way adjustment
Hydraulic engaging and disengaging
Hydraulic brake
Belt conveyor instead of shaker chute
Automatic feed control
Electronic sawing interruption
The rule for all our Framesaws:
Proven quality of Möhringer steel construction with 20 years of warranty against fracture of the frame
Cold stress-relieved ductile frames avoid fractures. Frame out of one single piece – without base plate – completely assembled in the factory generates fast installation on site and commisioning.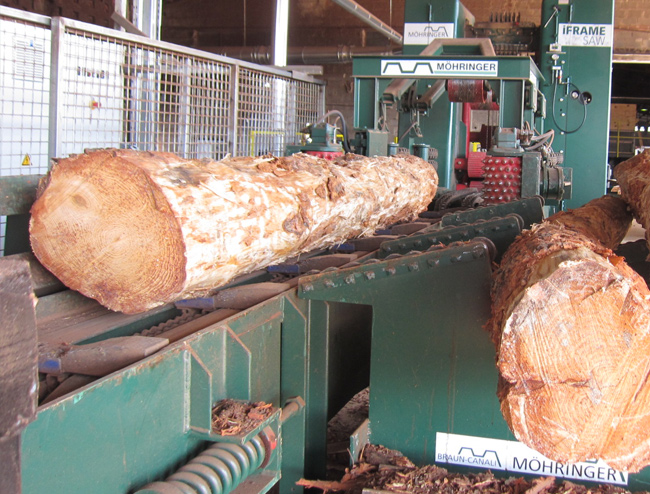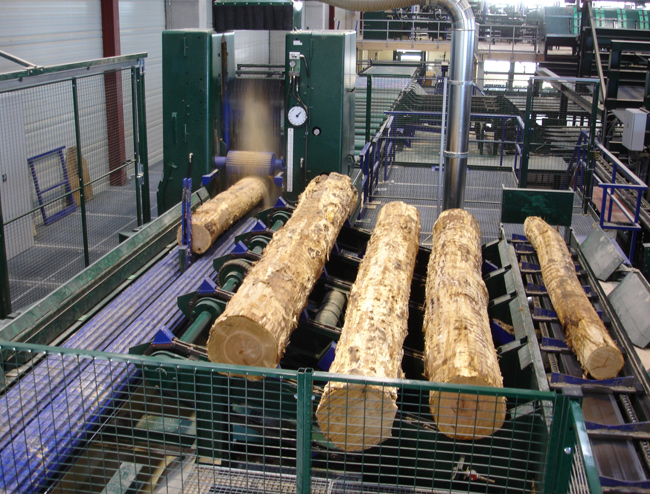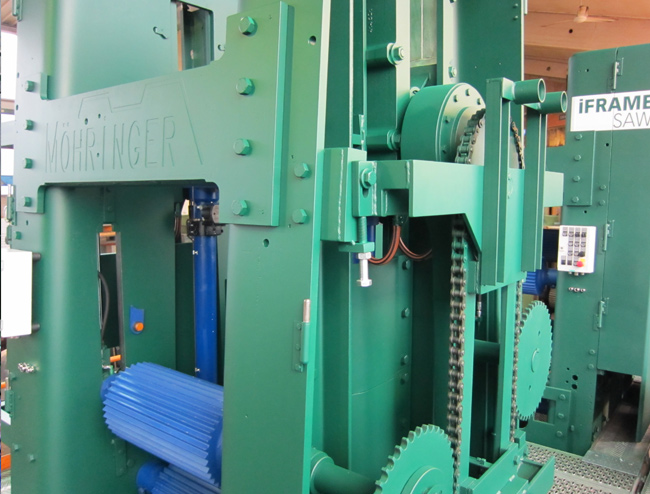 Frame saw examples of user applications
Construction timber
Construction timberIn a modern sawmill for construction timber, the time consuming change of blades can be saved by the use of our flexible framesaws. With the Auto-BV including 2 centre blades you can produce 2 variable products and even up to 4 variable products with our Multi-BV, thanks to the adjustment of several saw packs per push button or selection of cutting pattern. This enables you to optimise recovery in the side products, e.g. high valuable planks and frames instead of low valuable side boards. The ultra modern feeding of the framesaw with the Robocontrol in combination with the further developed riving knives with chain bed can even be operated as distant controlled production line, which is of course highly efficient.
Parquet
ParquetMany parquet board producing sawmills worldwide have bene equipped with our highly efficient Framesaw lines. Especially in combination with the fast infeed system, a fast and effective feeding of the machine with full saw blade frame is guaranteed. Upon demand even fully automatic. Respecting the specific demands in hardwood, the robust framesaw technology with ultra modern electronic is a warranty for economical cutting. In combination with the riving knife with driven chain bed for the transport of short slabs, as well as the careful timber handling due to the special 90° turning device of the side products, this is the ideal sawing process for the production of parquet boards.
Hardwood
HardwoodThe robust framesaw technology enables the sawing of big diameter hardwood (for example for the production of helves), whereas the valuable log has to be oriented fast, efficiently and precisely. In combination with the fast infeed system or with a fully hydraulic log carriage and the extreme heavy duty riving knife with chain bed, the guidance of the biggest logs through the framesaw (equipped with full saw blades) can be guaranteed.
The modern riving knife transports the disturbing short slabs out of the sawing area. Also here, the 90° turning device lays the sawn products gently on the roller conveyor so that the high valuable products are not damaged.
Your contact for Frame saw technology