Products –
 iFrameSaw Accessories
Frame saw feed
log carriage, auxiliary carriage, Fast Infeed System
Heavy-duty log carriage SWeh1 / SWvh1
This series have proven itself in many sawmills as universal Framesaw alimentation of logs and cants:
A robust, heavy-duty all-steel construction, extremely powerful clamping head and dogs, high load log table and ball-bearing mounted wheels, hydraulic dogging and automatic de-dogging, hydraulic lateral movement of the clamping head, hydraulic moving device, return system for auxiliary carriage.
Also available as remote controlled log carriage SWvH1.
Log carriage Robocontrol – remote controlled alimentation line
For especially heavy load and high capacity, we have developed the remote controlled, completely hydraulic log carriage Robocontrol. It allows to cut butt to butt, even with high feed speeds. Thanks to the extremely low design you save long moving distances, as the log does not have to be gripped at its end. It is possible to cut longer logs with the same rail length, which is very advantageous with construction wood.
Robocontrol allows a alimentation from both sides. Hydraulically driven and pivoting chains turn the log to the ideal position without any effort. The dogs adjust and fix the log to avoid it from twisting.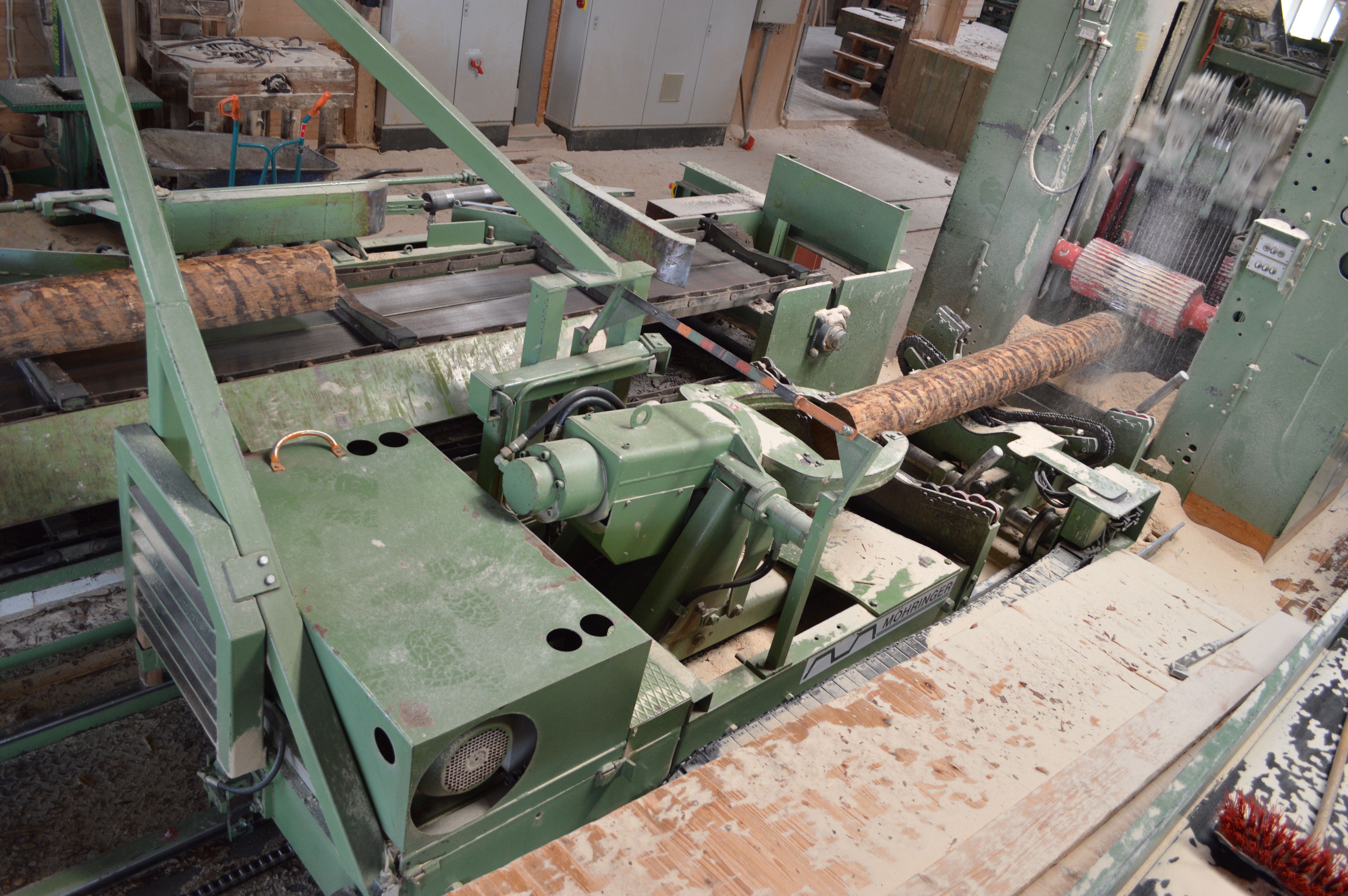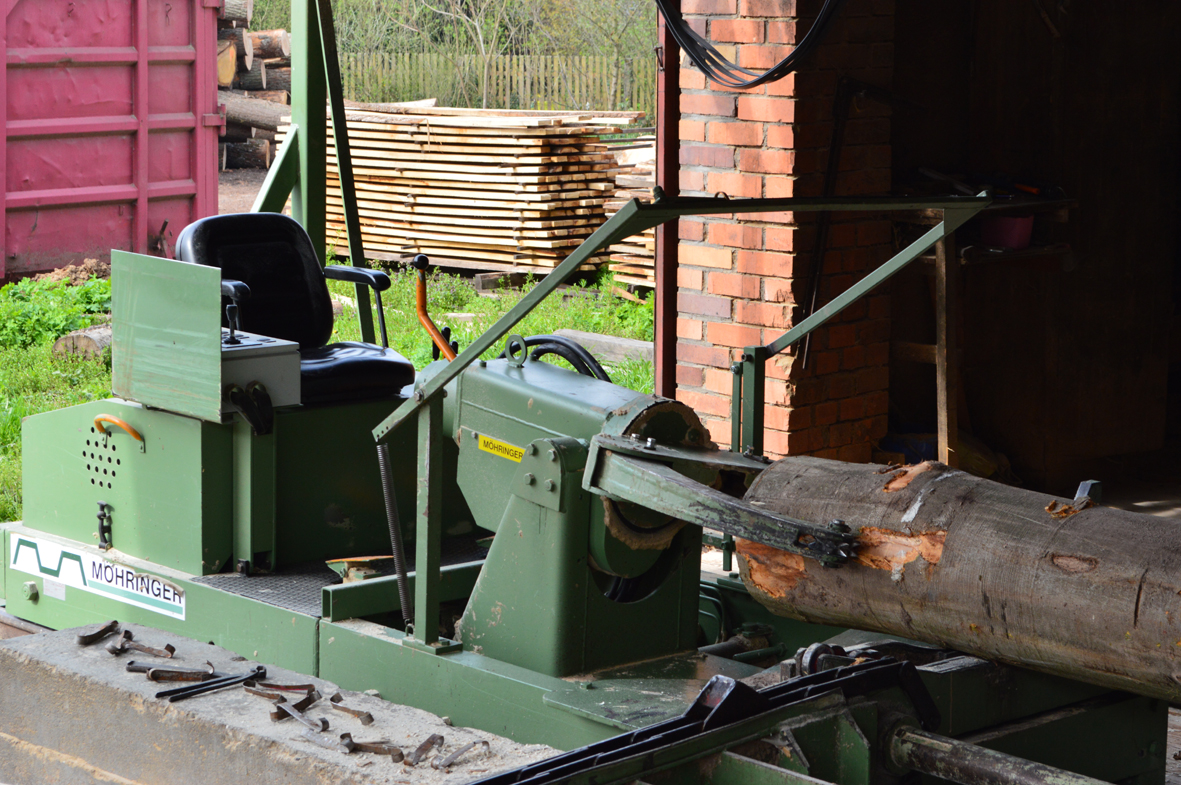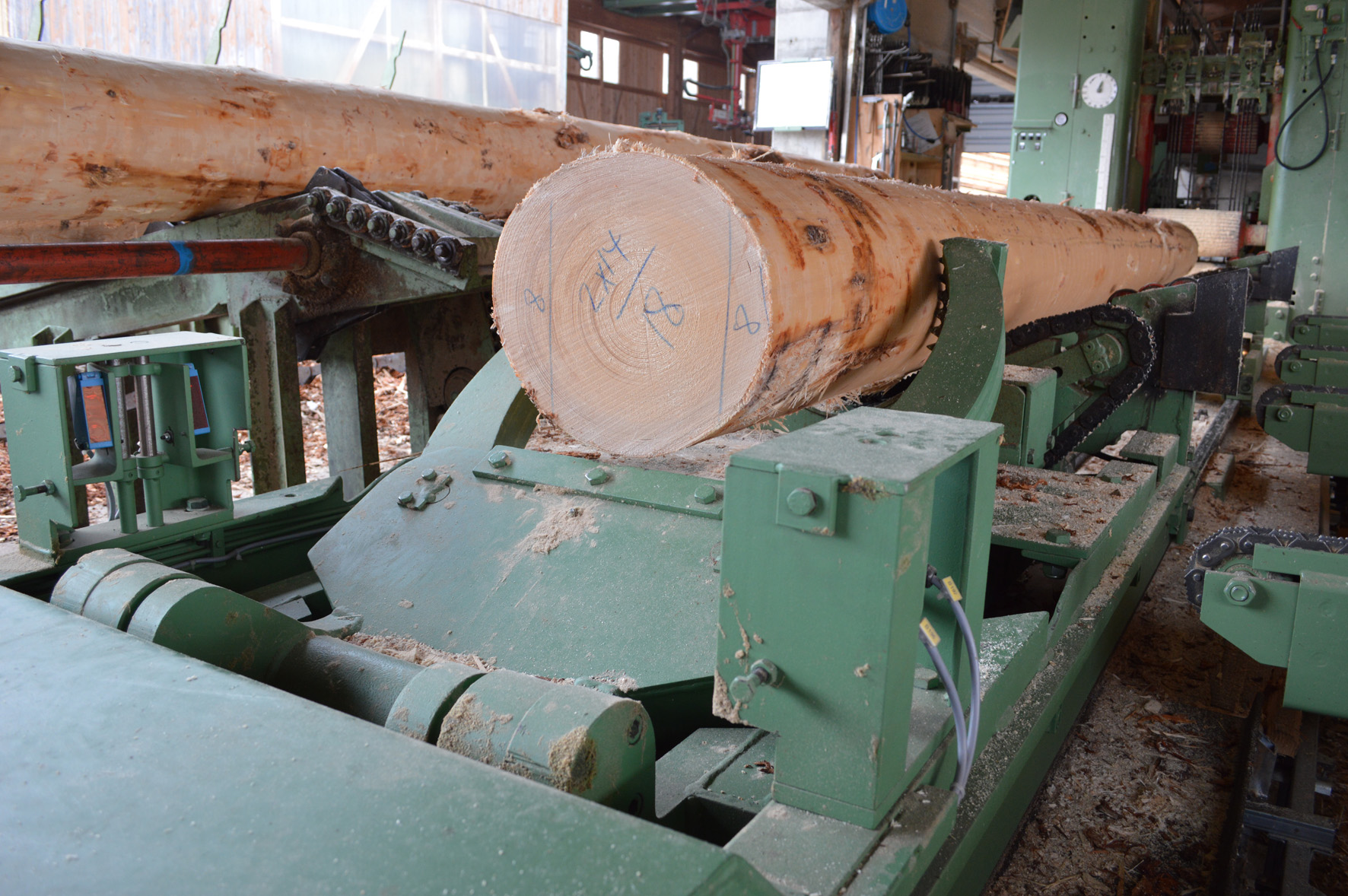 Log carriage in the overview
| | | | |
| --- | --- | --- | --- |
| | Electro-hydraulic log carriage SWeh1 | Full-hydraulic log carriage SWvh1 | Robocontrol |
| Track width | 790 mm – 980 mm | 980 mm | 980 mm |
| Support height | 350 mm -430 mm | 430 mm | 480 mm |
| Dog opening | 800 mm | 800 mm | 800 mm |
| Dog turning | Electric 360° by special gear brake motor | Hydrauilic 360° | Log turning by toothed chain |
| Moving speed fore and reverse | 100 m/min. | 100 m/min. | 100 m/min. |
| Drive capacity | 5,1 kW | 4 kW | 5,6 kW |
| Lateral movement | 310 mm | 310 mm | 310 mm |
| Total lenght | 3.150 mm | 3.200 mm | 3200 mm |
| Weight(approx.) | 1.250 kg | 1.350 kg | 1.700 kg |
| control | Two-lever-control of the hydraulic, control desk | Cable boom with control desk, resp. remote controlled | remote controlled |
Framesaw Control / Control Cabin
Installed on the log carriage or remote controlled from a control cabin or operators stand. Several operator's stands have ergonomically designed seats with back cushions and foldable arm supports. As well as mechanical sprung operator's seat where weight, sitting height and seat-back are steplessly adjustable.
Following cabin types are available:
Movable suspended cabin
Movable standing cabin
Fix suspended cabin
Fix standing cabin
Our cabins are made of a robust steel construction with 2 doors, swivelling panorama windows, sound insulation, heating and illumination.
Auxiliary carriage KW1 vek:
Reinforced with rotating chain
Drive through worm gear motor with integrated with overload clutch
Tipping stool and adjustable log support
Auxiliary carriage KW2:
As reinforced type with tipping stool
Rotating roller chain for cantsl
With hydraulically tiltable stool for logs
Auxiliary carriage Robocontrol:
An extremely heavy duty design
Hydraulically driven and swivelling chains for logs and cant
Auxiliary carriage in the overview
| Type | KW1vek | KW2 | Robocontrol |
| --- | --- | --- | --- |
| Track width | 790 mm – 980 mm | 980 mm | 980 mm |
| Support height | 430 mm | 430 mm | 430 mm |
| Drive capacity | 0,37 kW | 0,37 kW | External hydraulics |
Fast infeed system – increase in production due to butt-to-butt Framesaw feeding
Specially designed for a rational sawing procedure for short and small diameter logs.
Special advantages:
Butt-to-butt sawing process also with short logs and high feed speeds
Better recovery due to semi-automatic respectively automatic centring of the log
Easy sawing process of extremely short logs on a 4-roller frame saw
The feed dog avoids short logs to kick up
Precise straight guidance of the log
Torsion-free sawing even with twisted and knotted logs
Relief of the operator through semi automatic working resulting in an higher output
Technical execution:
Fast infeed system existing of:
2 hydraulically driven steel tube rollers with welded longitudinal rips which can be turned in both directions through a hydraulic drive
The feeding of the log is realised by a carriage with mounted block feed dogs
The carriage is located under the tube rollers and running on two round hard chromed guide shafts.Max. log length: Version 4 m / 5 m / 6 m / 7 m, Version XXL till 12 m
Min. log length: 1,5 m
Max. diameter: 700 mm (depending on log length)
Min. diameter: 50 mm
Drive: full hydraulicThe carriage is moved for- and backwards with an hydraulic driven endless precision roller chain.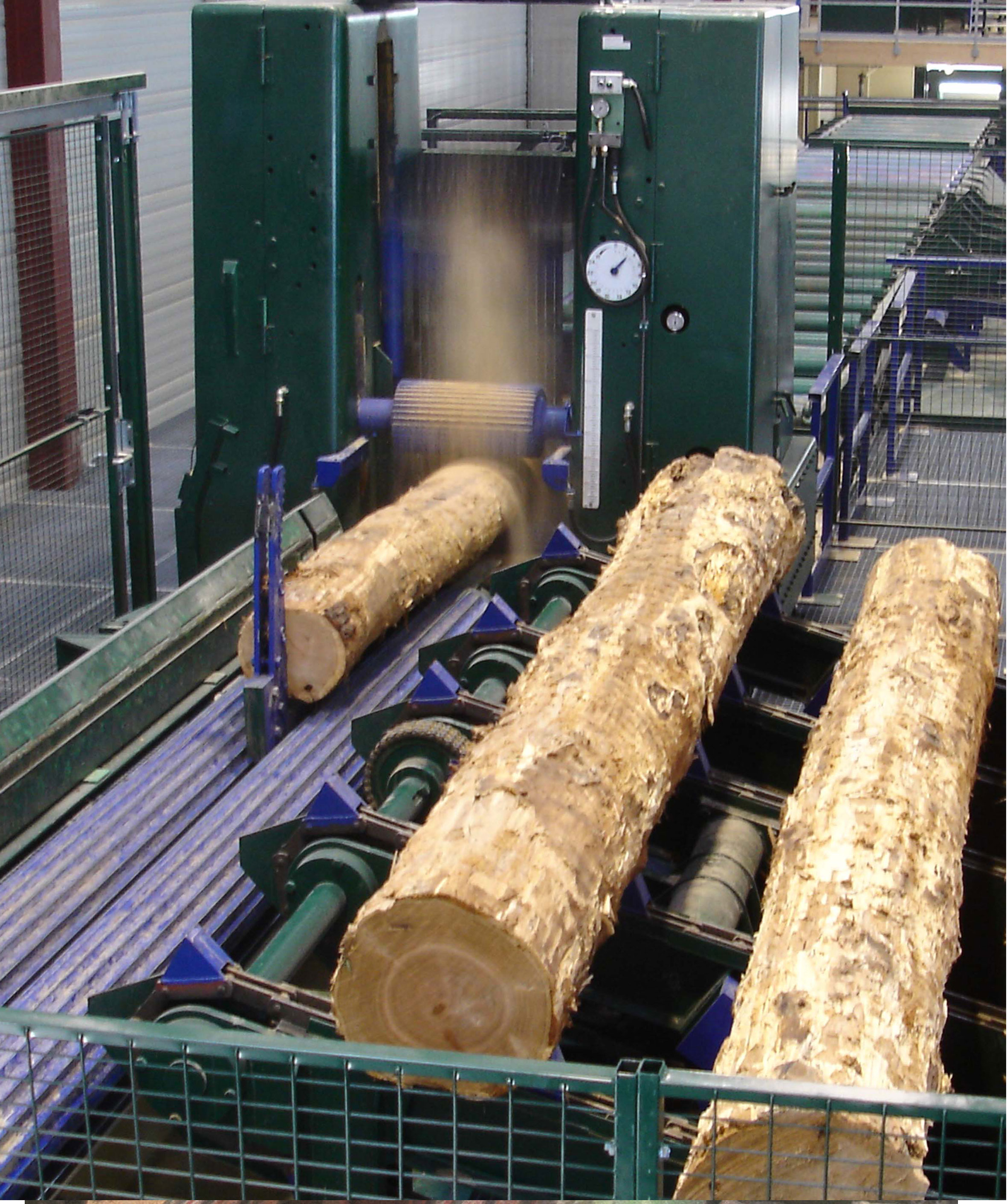 Rivin knife / circular cross cut saw VKK3
Möhringer riving knifes – quality for highest demands
Möhringer riving knifes are designed in a modular way and can be added to all Framesaws, even to Framesaws from other manufactures.
Our riving knives are constructed in two versions:
Riving knife SK63/73 with driven slab outfeed rollers and driven horizontal roller
Riving knife SK732/733 with driven slab outfeed rollers and driven chain bed
Hard-wearing construction:
Extremely solid guiding plate double guided on 2 very strong shafts-canting impossible
Riving knife made of special steel ST70
Optional: extended knife version made of Hardox special steel
Knife adjustment: electrical or hydraulical drive as option available
Connection to width adjustment possible for freely programmable riving knife position (SK73 B/MB, SK732 B/MB, SK733 B/MB)
Connection to central lubrication possible (SK732K, SK733K)
Driven chain bed, short slabs and boards are reliably transported out of the riving knife (SK732, SK733)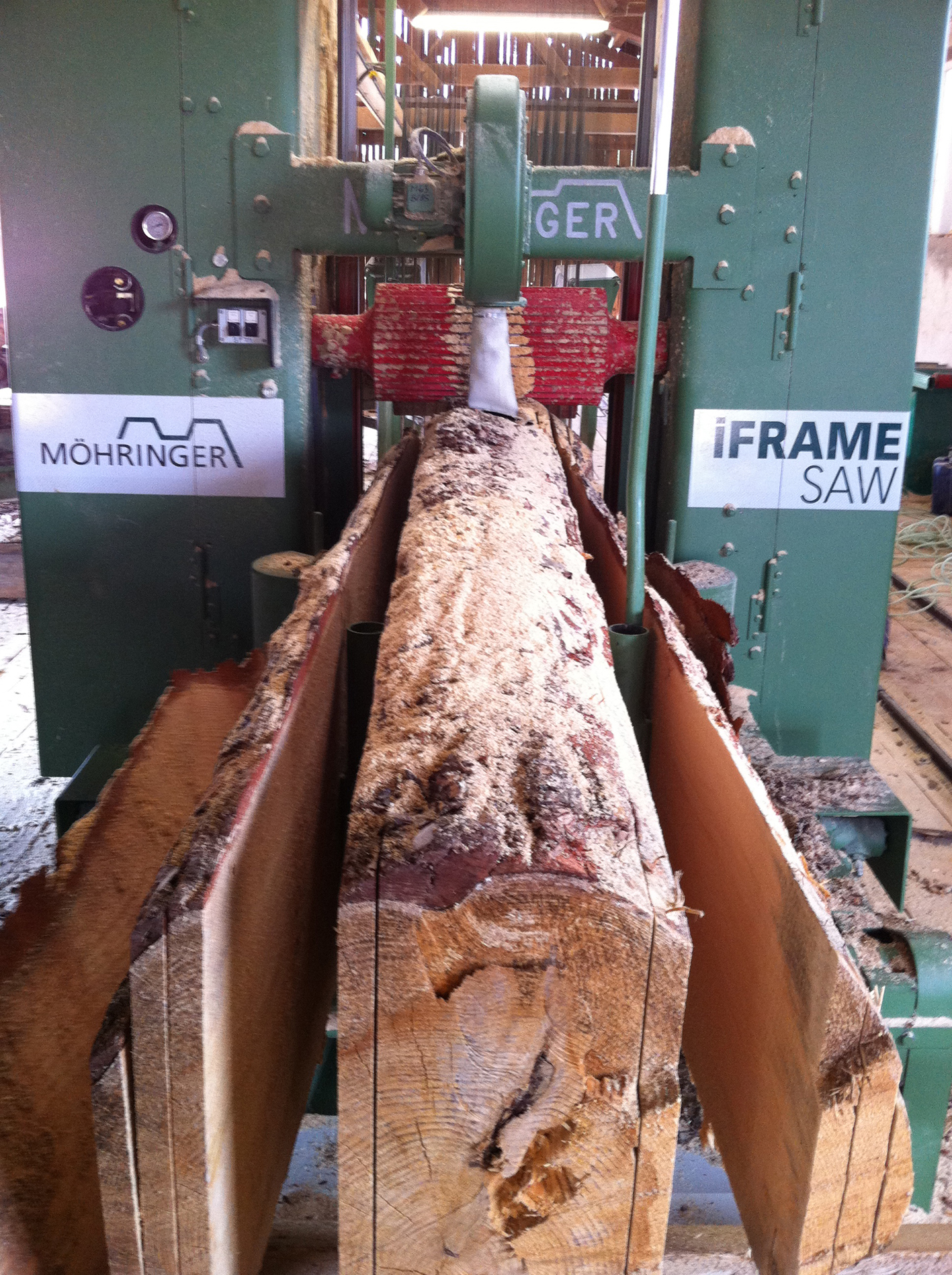 | Type | Length of knives | Drive | Hydraulilcal opening of rollers | Chain bed for short stabs | min. opening | max. opening | Opening width of Framesaw |
| --- | --- | --- | --- | --- | --- | --- | --- |
| SK73 | 1.330 mm | Electrically | nein | nein | 45mm | 600 mm | bis 750 mm |
| SK732 | 1.750 mm | Hydraulically | ja | ja | 78 mm | 600 mm | bis 750 mm |
| SK733 | 2.260 mm | Hydraulically | ja | ja | 78 mm | 600 mm | bis 750 mm |
Circular cross cut saw VKK3
This crosscut saw can be integrated in almost any Framesaw and resaw line between the riving knife and the roller conveyor.
Both swivel-arm pillars are connected to the riving knives and follow each of their movements. Even with width adjustment, the swivel-arm pillars move with the riving knives.
The feed system is interrupted automatically for a few seconds for the crosscut. The clamping arms to hold the side slabs and the two swivel-arms with the circular saws are moved fully hydraulically. The crosscut unit can be connected to any hydraulic station of suitable size. Otherwise, we offer you various hydraulic systems corresponding to your capacity.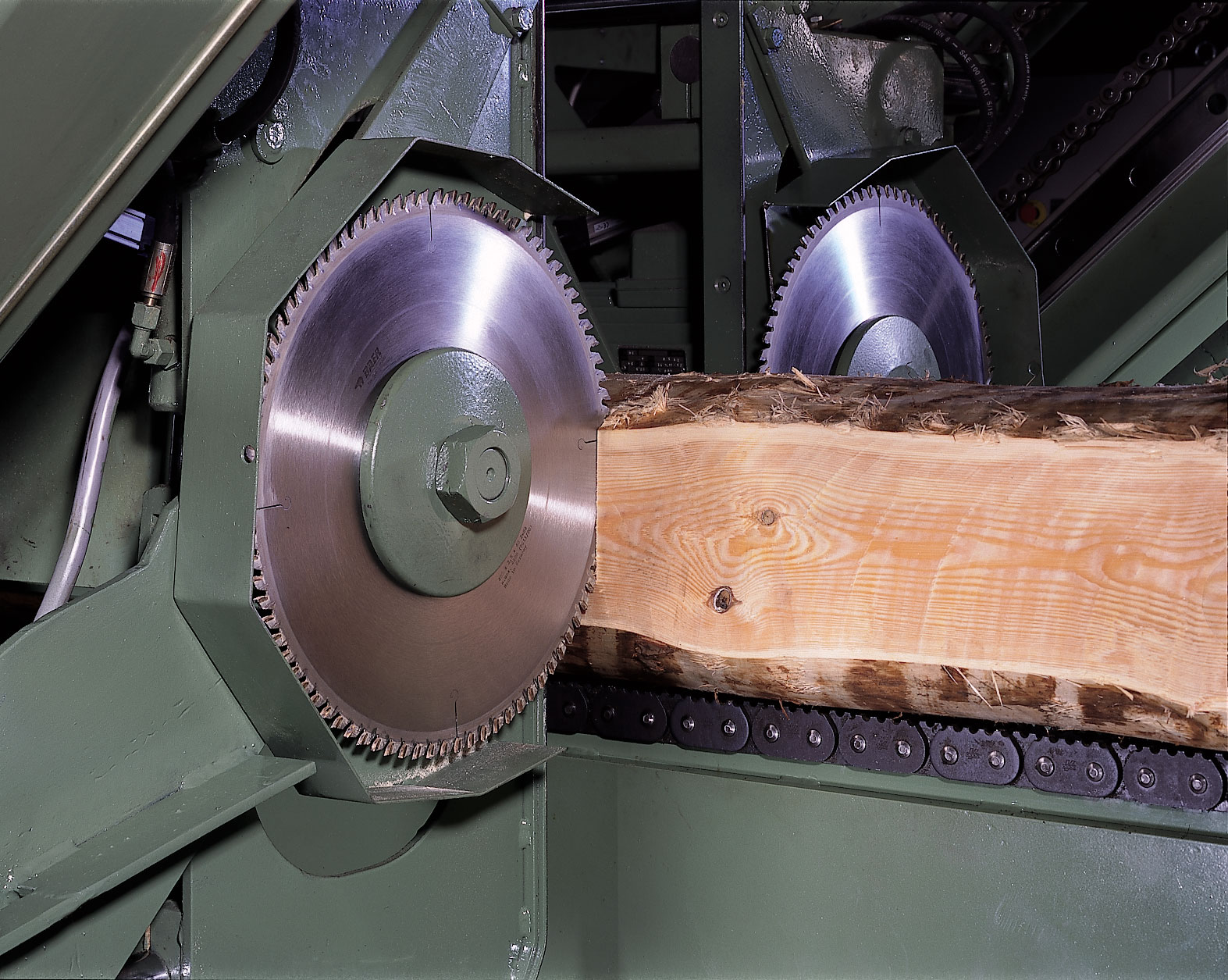 Advantages for you
Relief of the operator in charge of cross-cutting, especially when cutting long construction timber
Higher throughput volume at the edger because of crosscut side products
Less investment in conveyor sytems
Excellent wood utilisation by exact positioning
Right-angled crosscut boards also behind the resaw
Less risk of injury in comparison with manual pre-cross-cutting using a chain saw
Minimal feeding interruptions due to very fast crosscut process
Low top-energy consumption thanks to sequential start of the circular saw motors
Robust and functional design
Reliable and low-maintenance operation
Technical data:
Cutting height:   600 mm       Max. opening:                              750 mm
Blade diameter: 600 mm        Number of measuring points:      2 or more
Motor capacity: 11 kW each   Feed interruption:                       3-4 sec
Your contact in Frame saw accessories