Products –
 Sorting and stacking line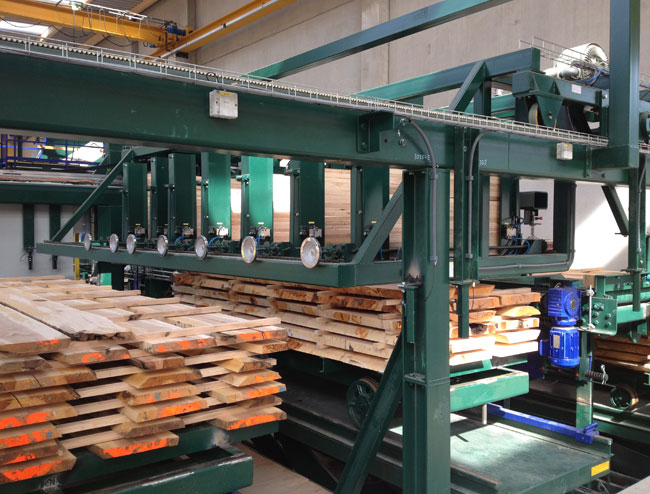 Flexistack in the sawmill
Automatic stacking of edged or unedged sawn timber
FLEXISTACK is predestinated for the gentle stacking of unedged quality sawn timber.
Integrated board scanning and logging: each board is measured by lasers from both sides. Deduction of length and width may be added optionally
The vacuum robot brings every board to the desired stacking place and aligns it
Each layer is optimized: board width and board distances are respected
The drive-along magazine automatically places stacking laths
Completed packs are discharged by a roller conveyor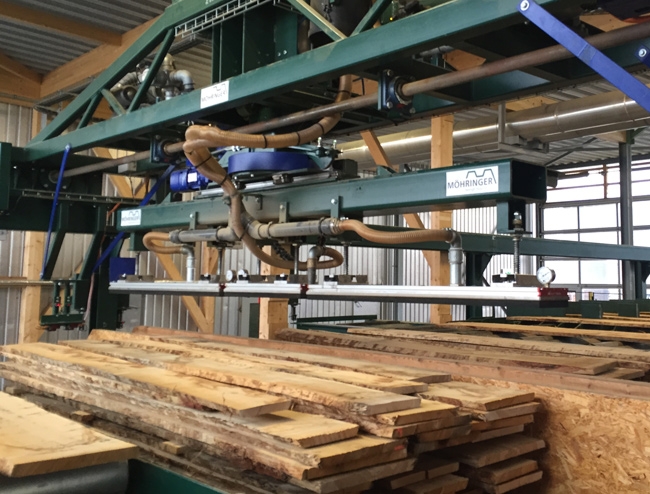 Flexistack in the secondary processing
Automatic destacking and stacking of quality sawn timber to obtain a pack ready for dispatch
Time-consuming measuring and restacking comes to an end: stack up to 7 boards per minute automatically with only one operator!
The intelligent control system calculates the optimum board combination and selects the matching boards out of an intermediate buffer. Conical boards are turned if necessary.
The layers are being destacked and the stickers automatically removed and collected.
After the laser scanner, each board is being assigned to the right stack.!
The result:
Very tightly stacked and interlocked packs: transport-safe, properly aligned, with measurement protocol.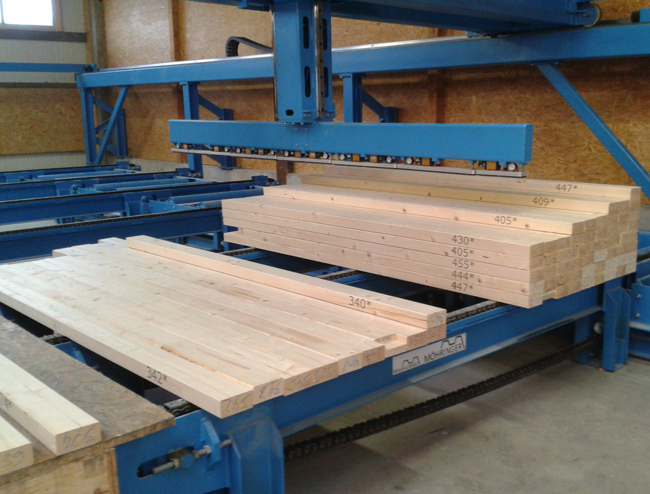 Flexistack for construction and roof truss timber
Automatic stacking of individual customers orders
In order to create a higher grade of automatization and constant material flow the FLEXISTACK system provides a handling technology for automatic sorting and stacking of construction timber, roof trusses or wall components as ready packages for the next processing step or ready for dispatch.
Our concept allows an increased wood utilization of raw material during the joinery process in order to minimize the waste material. At the same time, it solves the logistic problem created by the large number of individual parts with varying cross-sections. Instead of time-consuming manual sorting, handling and temporary storage, the stacking is carried out completely automatically thanks to a gantry robot. That way, it reduces physical load when handling heavy construction timber enabling to generate significant cost-saving in the logistics.
FlexiStack – Automatic stacking of individual customers' orders
<iframe width="560" height="360" src="https://www.youtube-nocookie.com/embed/q3vpk1YN9eI" frameborder="0" allowfullscreen></iframe>
Automatic destacking and stacking of quality sawn timber
Your contact for the sorting and stacking line FLEXISTACK