Products –
 Edging-Technology
The latest measurement technology leads to a miximized edging precision
thanks to the computer-supported and user-friendly operation you are in a position to choose your individual cutting patterns and obtain optimum capacity. The Autojet is extremely flexible, boards and planks can be fed without pre-sorting and in various thicknesses. First the boards or planks are cross fed through the measuring zone, then they are aligned automatically and finally optimized value edged. Boards, laths and edgings can be separated in 2 ways: with the help of our patent pending outfeed edging unit or the outfeed separating conveyor.
The patent pending outfeed edging unit separates the splinter and cut planks and boards in the same operation – without stopping the material flow – quickly and effectively. Alternatively, you can use the outfeed separating conveyor. This one is especially intended for a multifunctional use, as it enables to cut square timbers and multiple laths.
Precise mesurement technology
How the Autojet works in detail
Automatic High Performance Edging – Maximum Efficiency
The objective in the development of the new generation Autojet was the fast, flexible and efficient cross-cut and edging. Modern measurement of electronics and reliable computer technology in this case form the foundation for maximum production capacity.
1. Measuring
The Autojet measured boards and planks during the cross feed and therefore saves place. The measurement works from top and bottom by means of a leading-edge laser technology. This is the best way of determining the contour of the board and the features of the waney edge for the edging process. As an option, the Autojet can be extended by a quality recognition system with scanner.
2. Calculating
The measured information is transferred to a microprocessor. Using the easy to operate menu guide system you can deposit your individual cutting range to suit different criteria, such as dimension, price or quality. Full wood utilisation, fixed step cutting and the proportion of waney edge can also be adjusted and quantity restrictions set. The optimising computer calculates the ideal edging line taking into account your specification, the waney edge and the curve of the board.
3. Automatic cross-cut
In nearly all saw mills the capacity of the automatic edger is being reduced by the operator. That is why the manual cross-cut of tips by operator is being replaced with an automatic one. During this process the board is being measured from the top and the bottom by a laser and optimised in width and length by a PC according to specifications like price and quantity. The integrated cross-cut in the transversal feed allows an ideal cross-cut of tips for yield before the actual edging. The operator observes the procedure from the cabin and only intervenes in the process by joystick in exceptional cases.
Smart Solution
The unique outfeed edging without outfeed guide
4. Positioning and edging
The boards and planks are then transferred to the positioning table where they are fixed and adjusted for the ideal edging line with the help of the alignment system. The used circular saw technique makes every customer preference regarding flexibility and cutting depth possible. The saws and cutting equipment are brought into their ideal position quickly and precisely with the aid of digital positioning controllers. Finally, the timer to be edged is fed through the circular saw unit. The feed speed is automatically adjusted to suit the thickness of the timber so that maximum capacity can be achieved with the lowest consumption of power.
5. Parallel cut to the fibre
With the Autojet you can chose between a centrical cut and a cut parallel to the waney edge (right-aligned or left-aligned; especially for a cut parallel to the fibre). This way high-grade lamellae and cants can be produced with softwood as well as with hardwood.
6. Separating and sorting
Boards, laths and edgings can be separated in 2 ways. Our patent pending outfeed edging unit separates edgings from the laths and boards simultaneously without the material having to be stopped – fast and effective. Alternatively, you can use our outfeed separating conveyor. It is designed for multiple use as it can also process cants and boards with several products. Our outfeed separating conveyor allows universal usage, because also cants and several laths can be processed at the same time. From the outfeed unit boards and laths are sorted. The dimensions and classifications calculated by the measuring computer are used for automatic stacking.
Our product series AutoJet in the overview
AutoJet
Laser scanner from top and bottom with triangulation lasers: space and time saving as the boards do not need to be turned
Scanner works independent from the board colour. Perfect measuring results even with dark wane
Compact design thanks to integrated cross- cutting station. Specially designed for sawmills with limited space
Drive shaft: energy efficient drive
A good price and space saving alternative, universally to be used for small and big sawmills.
AutoJet PRO
Laser scanner from top and bottom with triangulation lasers: space and time saving as the boards do not need to be turned
High flexibility with telescopic system with 6 variable saws
Powerful energy saving drives with one drive motor on each side
Robust execution enables high cutting depths
Combinable with automatic board cross cutt station
AutoJet Econo
Space-saving assembly alternative to accommodate small rooms.
Laser measuring during cross transfer, optimisation computer for calculating the ideal edging line. Cutting goods are freely programmable according to size, price and quality. Entry of parameters for wood yield, grid cut and waney edges rate as well as quantity limitation.
Highly efficient digital positioning controls for saws and separation devices, fast and precise.
Minimal current consumption with only one driving motor for the saw shaft as well as adjustment of feed speed according to wood thickness.
AutoJet EasyFeed
Minimal-version for manual edging.
Robust manual edger with a solid circular saw casing.
Digital-hydraulic adjustment of the circular saw packages with up to 6 variable bushings.
Wide clamping surface on the side for laths/frames.
Ergonomic preselection of the cut with convenient operating surface.
Riving knife jumps on each saw using a digital-hydraulic adjustment.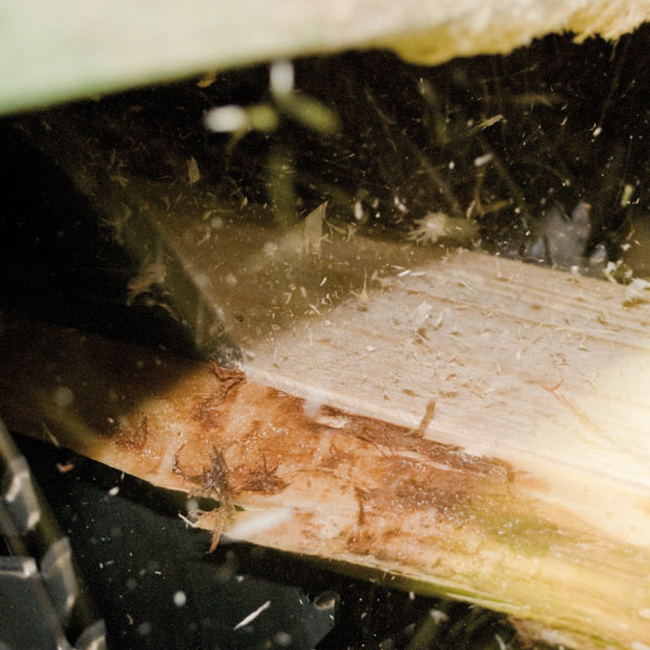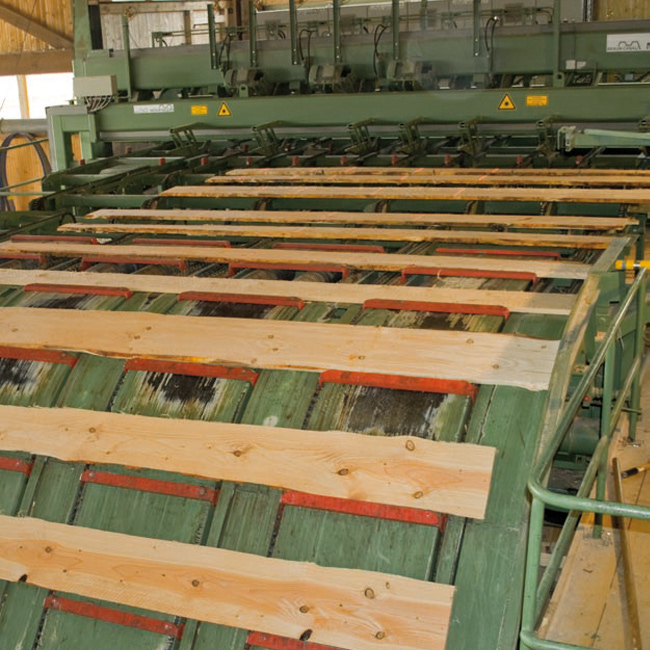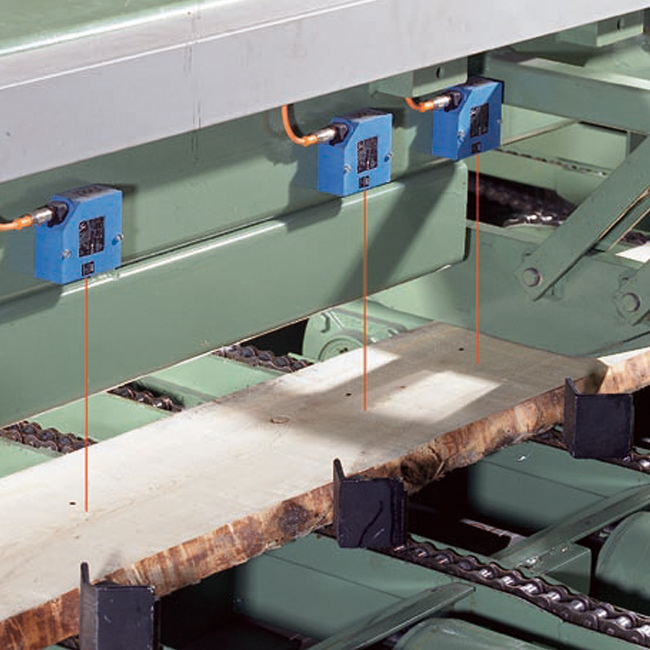 Edging Technology – Examples for Applications
Autojet
For the use in small and medium sized sawmills, especially those who produce construction and packing timber, the Autojet is the ideal automatic edger for the required flexibility and piece count. With speeds from 60 – 180m/min. according to cutting depth, 3 to 5 movable saw bushes and a preceding laser scanner the products can be measured during transversal transport and edged in high speed and without large space requirements. In order to avoid a manual turning of the boards, the boards can be measured from top and bottom. Individual solutions can be worked out together with our engineers. In that way almost all installation varieties are possible.
Autojet PRO
For higher and highest capacity requirements, our Autojet PRO line has been designed with up to 6 movable saw heads (telescopic principle). A fast singulator with remote-controlled singulator, virtual examination and turning, transfers the products transversally to the scanner station where each board is measured from top and bottom (if required). With end and eventually cross cutting of curved products, activated by the computer, the cuts are realized within shortest time to avoid the time of manual cross cutting.
With these lines, high piece counts of up to 40 boards / minute can be achieved. Especially for side boards for construction timber, pallets or packing material produced by chipper canter lines, these machines are ideal as they are very precise and reliable.
Combined circular saw machine
In today's small and medium sized companies, a combined machine is very often integrated in addition to the primary frame- or bandsaw. This machine technology exists for cutting depth 15 – 120mm or for the bigger sections up to 150mm cutting depth in order to produce 3 to 5 variable products at a time thanks to the telescopic adjustable saw bushes. Ideal features for processing the bigger sections are the cant / board turner which is integrated in the cross cutting station, as well as the scanner from top and bottom to avoid the manual cant / board turning. In this way, a medium sized sawmill can process his side boards as well as a part of his main products to squares and frames etc.
Your contact for the edging technology