Products –
 Sorting lines for finished timber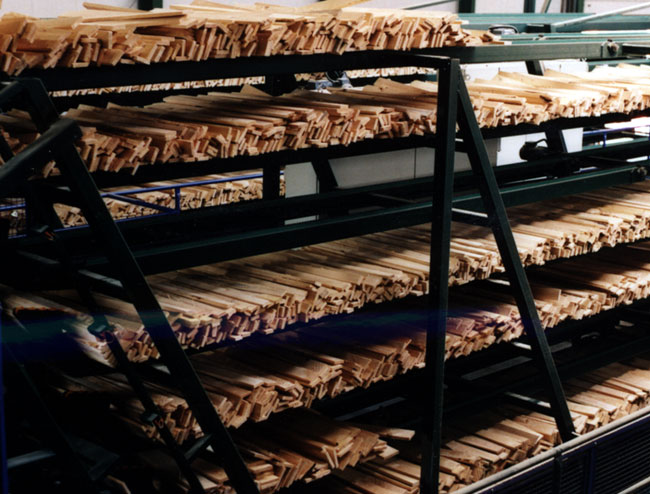 Horizontal sorting line
Möhringers horizontal sorting lines for free programmable sorting of level according to length, width and thickness by scanning the incoming products. The automatic filling of the levels as well as the filling level indicator by PC and the herewith connected board piece count for automatic buffer memory stacking, are standard for this sorting technique. Separate conveyors for a continuous filling of each layer enable an ongoing emptying onto the separate discharging conveyor and the exact trouble free transfer on to a free selectable stacking unit. The sorting piece count is about 80 boards per minute. The amount of layers as well as length, width and dimensions can be designed according to the customer's desires.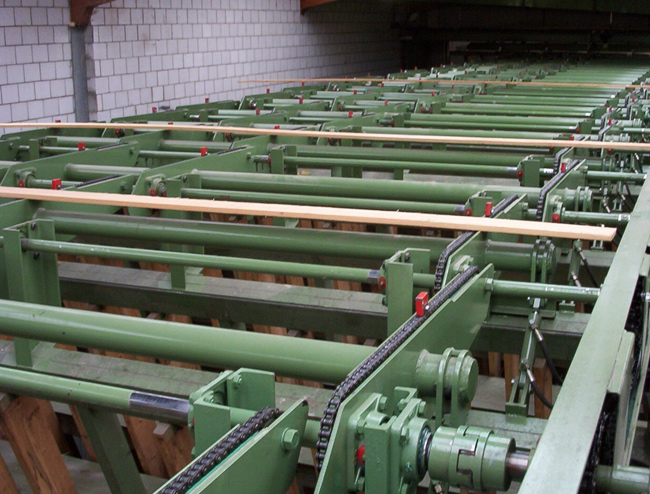 Box sorting system
The box sorting system, also called tray sorter, enables also the free programming of each box according to length, width and thickness by scanning the incoming boards. With piece and box filling indicator, on PC basis if required, the boxes are emptied automatically onto the discharging conveyor running underneath the boxes and transporting the boards to the stacking unit.
According to the filling level, the boxes are lowered automatically to enable gentle transfer of the boards. There are no waiting times while one box is being emptied as automatically the next free box is selected to continue sorting that dimension. This sorting system can be combined with any standard stacking unit.
Board length, width and thickness as well as the number of boxes can be designed according to the customer's requirements. The capacity of this installation is up to 80 boards per minute.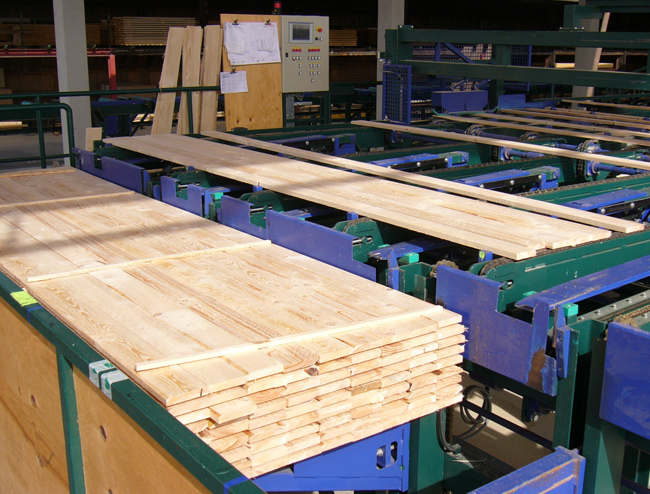 Transversal sorting
This economical sorting solution is especially interesting for smaller companies. There are two versions: hook sorting and the chain sorting, which sort the products mechanically according to length in different carriages or bands.
Classification of sawn timber- Examles for applications
Box sorting system
Classification into normal or inclined boxes is used in every highly performing saw mill for soft timber. A performance up to 80 boards / min allows an economic treatment of side boards in the saw mill. Story classification is a technology especially designed for sensitive or extremely short boards. The gentle placement of the boards on the buffer is applied particularly for the classification of short palet boards or in the soft wood field.
Your contact for sorting lines for finished timber