Products –
 iFrameSaw 500 550 600 700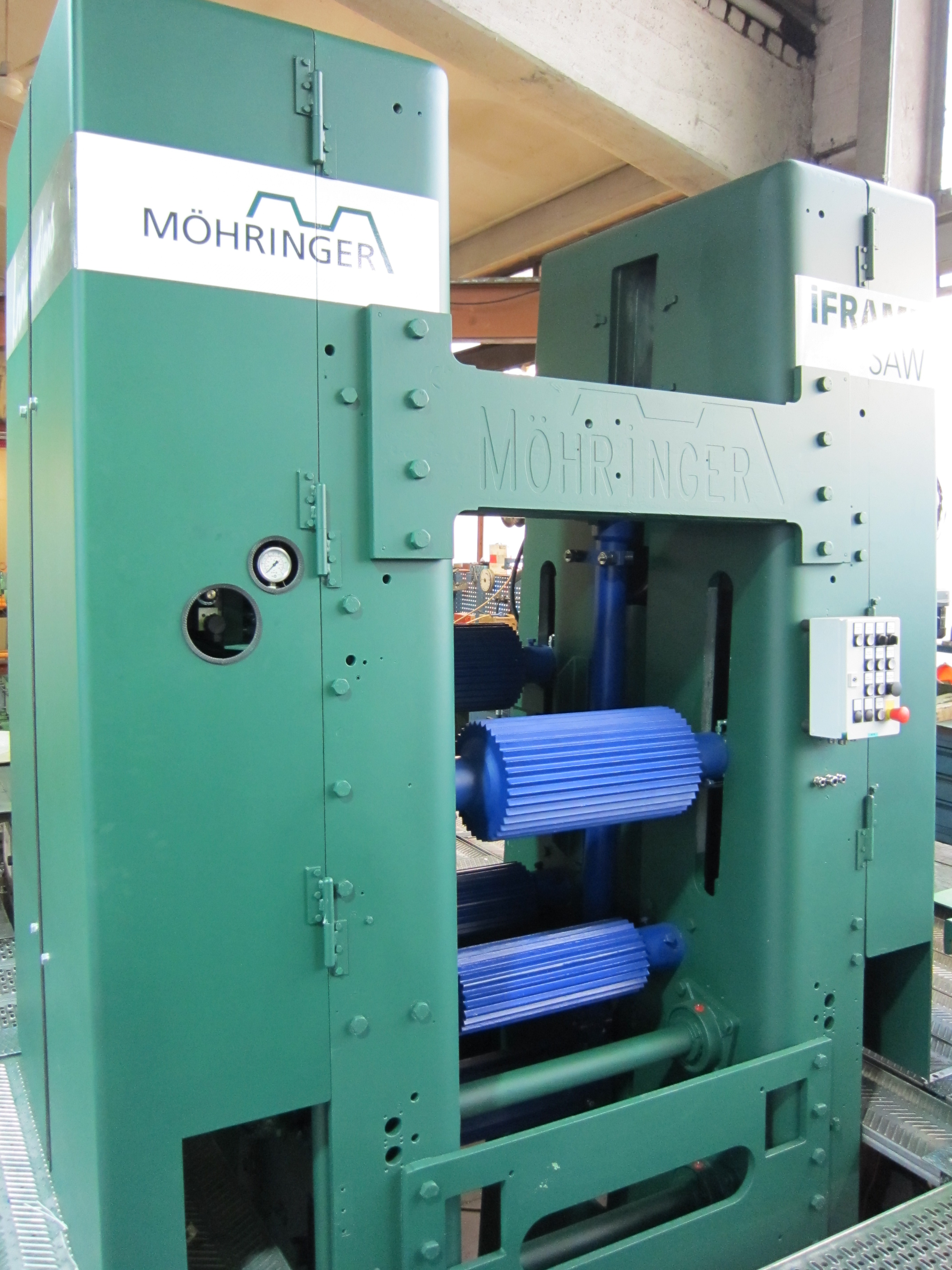 iFrameSaw 500
The steel construction has proven its value during decades of continuous operation in various climatic conditions: 
Absolute security against fracture of the frame due to steel construction
High-stressed parts like crank tenons, main shaft and saw frame are made of high-grade special steel
The iFRAMESAW 500 will be offered on an extraordinary favourable price level.
The iFRAMESAW 500/45 is specially designed for soft wood up to a diameter of 45 cm and highly efficient due to high speeds of blades.
Both, the iFRAMESAW 500/45 and 500/71 types may be equipped with 8 rollers for short timber.
Innovative standard equipment features:
Electric frequency-controlled feed speed
Independent electronic control for feed and overhang with numerous adjustment possibilities for an optimal rate between speed and overhang
PLC control with touch screen display for individual adjustment by client
User-friendly menu navigation, does not require any PLC knowledge
Integrated counter for operation and service hours
Large CPU hardware: all software options can be upgraded
Optionally available:
 Logging: automatic logging of output per day, shift or paid cutting, logging of diameter, slip-free logging of running meter by separate measuring roller, output of loggings on a memory stick or a printer
Automatic feed: optimized feed depending on diameter, number of saws and type of timber
Automatic rollers: automatic control of upper rollers
Fully-automatic system: in connection with Möhringer fast infeed as an automatic frame saw operation
This framesaw can be supplied as flexible version equipped with remote controlled asymetric width adjustment of saw blades as well as singular 4-way width adjustment Mulit-BV.
Due to variable and fast adjustment of width during running operations an optimal yield of the lumber can be achieved.
The position of each saw pack is controlled through a programmable display
iFrameSaw 500 Models in the overview
| iFrameSaw 500 | Passage width | Passage heigt | Strocke | Diameter | Drive pulley width | max. revolutoins | max. Feed |
| --- | --- | --- | --- | --- | --- | --- | --- |
| 500/45 | 450 mm | 450 mm | 500 mm | 1000 mm | 200 mm | 350 U/min | 15 m/min |
| 500/71 | 710 mm | 710 mm | 500 mm | 1000 mm | 200 mm | 300 U/min | 12 m/min |
| 500/75 | 750 mm | 750 mm | 500 mm | 1000 mm | 200 mm | 300 U/min | 12 m/min |
iFrameSaw 550 / 600 / 700 – Heavy duty framesaw
Designed For High Output
iFrameSaw 550 / 600 / 700 heavy duty Framesaw is designed for any type of cut due to the universal use.
They match with highest demands on sawing capacity and industrial multiple shift operations.
In both, soft and hard wood saw mills they succeeded due to their high endurance and little maintenance cost only. All types may be equipped with remote controlled asymetric width adjustment as well as the variable 4-way width adjustment Multi-BV.
Superior technology
With an O-stroke pump no oil heating and only a minimal energy consumption
The oil circuit is dimensioned amply: connection of other hydraulic consumers possible
Electronically controlled central lubrication, directly from the 200 l barrel
Electrical frequency-controlled feed drive
Framesaw feed up to 24 m per minute
Special quality features
Especially big chain wheels of the upper rollers ensure that there is a trouble-free climbing, even with dirty and knotty logs
All gear racks, gear and chain wheels are milled out of massive steel, resulting in extraordinary stability and low grade of wear
Main bearings designed for lifetime
User-friendly concept
No traverse required on the infeed side, thanks to reinforced frame, thus easy access when changing the blades
Flywheels made of solid steel
No risk of cracks
Easy running
All Framesaw types have the following standard equipment:
Electric frequency-controlled feed speed
Independent electronic control for feed and overhang with numerous adjustment possibilities for an optimal rate between speed and overhang
PLC control with touch screen display for individual adjustment by client i.e. lubrication times
User-friendly menu navigation, does not require any PLC knowledge
Integrated counter for operation and service hours
Large CPU hardware: all software options can be upgraded
Electrical remote control
Automatic overhang adjustment
Central lubrication system
Framesaw hydraulic
Complete set of foundation screws and special tools
Steel shaker chute
Single pulley driveGanzstahlschüttelrutsche
Einscheibenantrieb
Further optional features, as in iFrameSaw 500 (above)
iFrameSaw 550 / 600 / 700 Model in the overview
| iFRAMESAW | Passage width | Passage height | Stroke | Diameter | Drive pulley width | max. revolutions | max. feed |
| --- | --- | --- | --- | --- | --- | --- | --- |
| 550 | 710 mm | 710 mm | 550 mm | 1.000 mm | 200 mm | 300 U/min | 15 m/min |
| | 750 mm | 750 mm | 550 mm | 1.000 mm | 200 mm | 300 U/min | 15 m/min |
| 600 | 710 mm | 710 mm | 600 mm | 1.200 mm | 200 mm | 300 U/min | 18 m/min |
| | 750 mm | 750 mm | 600 mm | 1.200 mm | 200 mm | 300 U/min | 18 m/min |
| 700 | 710 mm | 710 mm | 700 mm | 1.200 mm | 200 mm | 300 U/min | 24m/min |
| | 750 mm | 750 mm | 700 mm | 1.200 mm | 200 mm | 300 U/min | 24m/min |
Your contact for iFrameSaw technology