Bandsaw – Technology – Thincutting band saw
Thincutting band saw – Small saw kerf, high precision
Thincutting band saws are designed for highly precise production of high-value products, i.e. parquet lamellas, strips for floorboards, door components, saw-cut veener, pencil timber, parts for music instruments.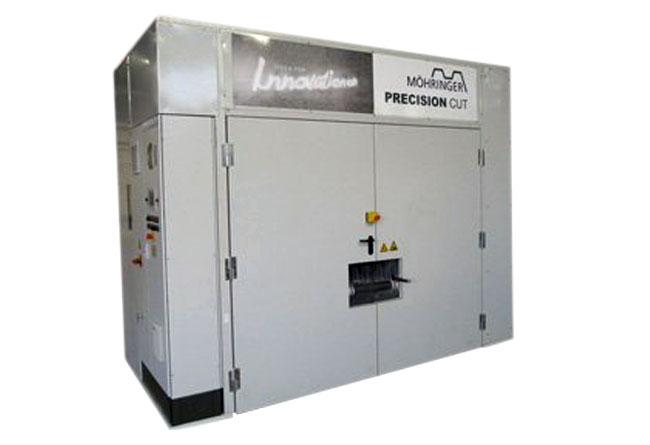 Thincutting band saw PRECISION CUT
High precision sawing
Even thin products are sawn highly precise with a very small kerf.
This high precision cut is guaranteed by:
Precise sawblade tensioning and special crowning of the wheels
Innovative sawblade guiding
Adjustment of high precision infeed devices in steps of  1/100 mm
Minimal kerf
Saw kerf from only 1,2 up to 1,6 mm with cutting speed between 7 and 40 m/min (depending on type and humidity of timber and cutting width)
Economic consumption of raw material despite high feed speeds
Long saw blade life contributes to low running costs
Types Available
Thincutting band saws may be operated as a stand-alone unit with manual infeed. However, normally the feeding is done automatically and the timber is processed by several machines in line.
Technical Data
Max. timber height:             400 mm
Feed speed:                        7 till 40 m/min frequency controlled
Saw kerf:                             1,2 till 1,6 mm
Cutting tolerance:                +/-0,1 up to +/- 0,2 mm
 Referring to the corresponding distribution percentil (depending on cutting depth, type and humidity of timber)
Other bandsaw technologies
Your contact for band saw technology